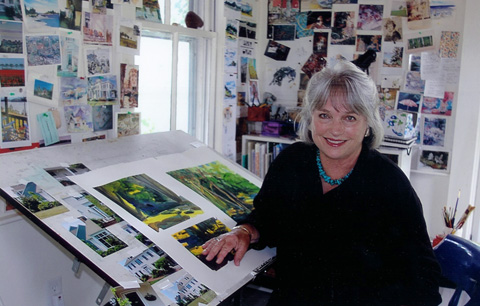 JoAnne Towell Chittick
Background

Born Cleveland Heights, Ohio
Smith College, B.A., English Literature (1966)
Houghton Mifflin Company, Educational Division, Boston, MA
I have been painting in watercolor for many years, in oils for the last ten. Local workshops include study with Ros Farbush, Mary Lizotte, Virginia Avery, William Ternes, and Frank Webb, and with Tony van Hasselt, Skip Lawrence, and Betty Lou Schlemm on the Maine coast.  My work in oils has been fueled by study with Peter Schroth, George Nick, Susan Charles, Jon Imber, and Margaret McWethy.
I am a Signature Member of the New England Watercolor Society, an Artist Member of the Copley Society of Art, Boston, and a juried Gallery Artist of the South Shore Art Center and the Cambridge Art Association.
My work has been exhibited in numerous solo shows in the Boston and South Shore area, and every year I exhibit paintings in a variety of juried and group shows. My work has been featured in South Shore Living magazine, the Boston Globe, and the Patriot Ledger; the Boston Bar Association and Hill House of Beacon Hill have chosen to publish work as cover art for their publications; Rosie's Place (Boston) selected two pieces for holiday cards.  My paintings hang in private collections throughout Europe and the U.S. (including those of Steve Wynn, Keith Lockhart, and the office of the mayor of Boston).
My specialty is house portraits.  In these popular commissioned architecture paintings, I try to capture the distinctive character of a home, working with the owner (or gift giver) to include important details of the building and its surroundings.
Recent Exhibitions and Prizes
"Illuminations" (2018), Mass. General Cancer Center, Boston, MA
BLUE (2017), Cambridge Art Association, Cambridge, MA
New England Watercolor Society: North American Open Show (2016), Gloucester, MA
"Structures & Remnants: Landscapes and the Human Presence" (2015), Cape Cod Museum of Art, Dennis, MA
Solo show (2015), Harvard Vanguard Medical Associates, Cambridge, MA
"Down to the Sea" (2014), Solo exhibition, Paul Pratt Library, Cohasset, MA
Blue Ribbon Show, South Shore Arts Center, Hon. Mention (2014, 2015)
"The Power of the Power of Suggestion" (2014), Alpers Fine Art, Andover, MA
"Chain Reaction" (2013), Brickbottom Gallery, Somerville, MA
South Shore Arts Festival: 1st Place Watercolor (2013)
Copley Society of Art: New Members Show, Contemporary Still Life, Copley on Cape Cod (2011), Summer Members' Show (2012), Fall Members' Show (2013)
Cape Cod Art Association: National Juried Show (2011, 2012)
Duxbury Art Association Winter Juried Show:  2017, 2016, 2015 (Hon. Mention), 2013, 2011, 2008 (2nd place), 2007 (Hon. Mention), 2006 (Hon. Mention)
South Shore Arts Festival:  2017, 2015, 2013 (1st place), 2012, 2011 (Hon. Mention), 2010 (Award of Excellence), 2009 (Hon. Mention), 2007 (2nd place, Hon. Mention), 2006 (2nd place)
North River Arts Society:  Art Calendar (2011, 2008), Hon. Mention (2007), Award of Excell. (2002)
New England Watercolor Society: Signature Members' Juried Show (2013, Honorable Mention), North American Open Show (2008, 2004), Regional exhibition (2005, 2013)
375 Views of Boston , City Hall and Logan International Airport (2005)
New Art on Newbury, Boston , MA (2003)
Fidelity Investments (2003)
Professional Affiliations
New England Watercolor Society, Signature Member; Copley Society of Art, Artist Member; South Shore Art Center, Gallery Artist; Cambridge Art Assoc., Gallery Artist; Duxbury Art Assoc.; North River Arts Society
Snug Harbor Gallery, Duxbury, MA
Published Cover Art
Boston Bar Journal  (2001, 2000, 1999, 1998, 1997)
Hill House of Beacon Hill publications (2002, 2001)
Rosie's Place holiday cards (2003, 2002)
Cohasset Rotary phone book (2004)
The Vincent Club, Boston (2004)
The Eclectic Gardener , Cohasset Community Garden Club (2004)
North River Arts Society Art Calendar (2011, 2008)
Featured in South Shore Living (Sept. 2011)